About The Hillbilly Goats
"...the Hillbilly Goats exhibit genuine passion and no lack of expertise or energy in their mission to present a taste of old-time Appalachian folk to Australian audiences....driving fiddle and plonking banjo in tandem provide more conventional impetus. Elsewhere, double bass and harmonica in conjunction with a variety of percussive devices (clogging, washboard, bones and jew's harp) help maintain momentum. Tight four-part harmony singing, with alternating male and female emphasis, adorns most tracks."    

- Tony Hillier, The AUSTRALIAN - Aug '13
Kick yer shoes off, put yer hoe-down & hang on to yer britches!
2022 Winners - Folk Alliance Awards - "People's Choice"
2021 Finalists - Folk Alliance Awards - "People's Choice"
2020 Winners - Golden Fiddle Award
2020 Golden Guitar Finalists for "Bleed Me Dry" - Bluegrass Recording 
  2019 Golden Guitar Finalists for "Gypsy Girl" - Bluegrass Recording 
 2017 Golden Guitar Finalists for "Cumberland Gap" - Bluegrass Recording 
  2016 Golden Guitar Finalists for "Rabbit in a Log" - Bluegrass Recording 
2012/13/14 Winners - Best Band Far Nth QLD - Cairns Post Timeout Awards
Festival favourites, Australian Folk Band of the Year (2022), Golden Fiddle Recipients (2020) and 4 time "Bluegrass" Golden Guitar finalists, the Hillbilly Goats, exude an undeniable passion for mountain music, the instruments and the harmonies.  Their mission is to strip back the layers of modern music and transport you on a journey that began centuries ago when the immigrants first settled in the Appalachian Mountains of America.  These guys aren't just a band – "they're a show" and "Keeping it Real" is their motto!

Their recordings feature award nominated originals, but mostly paint a picture of traditional songs from 1710 through to the 1940's with a high energy quirky edge.  Featuring Banjo, Bones, Double Bass, Fiddle, Tap Dancing, 3 part Harmonies and more, there is a tale told of the history of Mountain Music's evolution into Blues, Country & Bluegrass.  
The Hillbilly Goats are currently writing new material for an album release early next year following the success of their latest single, "The Drive" released through covid in 2021.
In 2019 the Goats released their single "Bleed Me Dry" which received a Golden Guitar nomination and they successfully launched their own biannual music event, (on their 86 acres), THE GAS – Goats Acoustic Sessions. 
2018 saw the Goats touring the launch of their album, "Old Jack's Bones" after its' successful release to sell out crowds at the Tamworth Country Music Festival.  Travelling across the ditch to New Zealand twice in 4 weeks is only the tip of the iceberg when it comes to touring the new record that "...overflows with the knees up inducing music its followers have come to expect."  (Tony Hillier, The Australian 2018)  "... the sheer exuberance, plus the panache and proficiency of the ensemble playing and singing" are key elements to the instant success of this album amongst fans and radio presenters alike.   This album reached #3 in the Australian Independent Charts, #21 in the ARIA Country Charts, received a "Bluegrass" Golden Guitar nomination and was shortlisted in the Qld Music Awards 2019 ("world/folk" category).

Their 3rd studio album, "Down Foggy Mountain", recorded & produced by Nash Chambers (Paul Kelly, Jimmy Barnes, Archie Roach, Kasey Chambers), reached immense success with 2 CMAA Nominations.   "Rabbit in a Log" was nominated for Bluegrass Song of the year 2016, and their second single, "Cumberland Gap" was nominated in the same category for the 2017 Golden Guitars.  This album further stamped the musical twist on traditional songs The Hillbilly Goats are famous for with big harmonies and a heavy presence of hard fiddle and fast harmonica.

Their previous album reviews in the Weekend Australian and several music magazines not only rave about their recordings, but their stage presence has been labelled "more driving and energetic than the less traditional shows seen on main stages of Australian country festivals." (Alex Turnbull, Capital News). 
The band members are never satisfied with their own instruments and continually swap over and change positions on stage – you won't know where to look or who to watch!  Each member is their own character to love and you'll see Goat Girl running through the crowd rattling the bones, Goat Boy playing 3 instruments at once - drums with his feet, banjo in hand and harmonica on a brace, and the Giddy Goat dances up a storm (whilst playing fiddle flat out)… but one of their biggest compliments from fans of all ages, is that they love the history lesson woven throughout the show and they all walk away feeling more knowledgeable on music and its' roots.  
A dedicated fan base has seen them voted into first place 3 years running for the Cairns Timeout Awards as "best NQ band" 2012-14, as well as finalists in the Tamworth People's Choice Awards 2014.  Another competition landed them on the main stage at the Official Opening Concert for the Tamworth Country Music Festival, which was an awesome way to kick-start 2015 – YEAR OF THE GOAT!

Whether it's a sit down dinner show or a flat out festival set, the Hillbilly Goats are renowned for their "entertainment" value.  Combining song with stories of Mountain Music's history has proved a marketable success that sees their show advancing through the festival ranks.

So, if you're still a Goat Virgin and haven't seen the Hillbilly Goats yet, check them out and see what all the fuss is about.  They sure know how to Raise A Ruckus and you are guaranteed to be entertained – OLD TIME STYLE!
KICK YER SHOES OFF, PUT YER HOE DOWN & HANG ON TO YER BRITCHES!             




Gig Highlights
The Goats started playing the odd local festival in 2007 gaining a taste for the big stage…Recent times have seen the calibre and amount of festivals increase, now performing an average of 20 a year and playing alongside Kasey Chambers, Mental as Anything, Black Sorrows, Russell Morris, Phil Manning, Jon English, 10CC, James Blundell, James Reyne, Bill Chambers, Adam Brand & more. Some of the major festivals played include…
Winton's Way Out West Fest 2021
NQ's Rockin' Country 2021/22
Savannah In The Round 2021
Music In The Mulga 2018, 21
Port Fairy Folk Festival 2018
Cuba Dupa NZ 2018
Woodford Folk Festival 2017
Gympie Muster 2013, 15, 17, 22
Broadbeach Country Music Festival 2014, 16, 18, 19, 21
Tamworth Festival 2012-2020
Airlie Beach Music Festival 2013-19
Cruisin' Country 6 (2016) & 8 (2018)
Agnes Waters Bluesfest 2015, 19, 21
Ballina Coastal Country Music  Festival 2013, 14, 18
Murwillumbah Country Roots Fest 15
Winton Outback Festival 2016, 20
Wintermoon Festival 2014, 15, 17, 19, 21
Maleny Music Festival 2016, 19
Wallaby Creek Folk Festival 2007-2013 
Tablelands Folk Festival 2007-2013, 2020    
Glengarry Country Music Muster 2012 & 2013 
Mudgeeraba Muster 2013, 14
Barcaldine tree of Knowledge Festival 2012
Far Nth Hillbilly Sessions with Bill Chambers  
Undara Country Rock & Blues Festival 2013 
Cairns Blues Festival 2013

Who Are The Goats

Bryce Wearne as GOAT BOY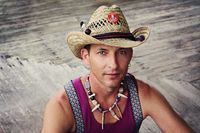 Goat Boy taught himself harmonica and mandolin at the age of 20. Soon after, he put down his chef tools and ran away with a country band called "Bettathannachookraffle".  Aboard a rusted out Kombi, the trio toured the country giving Goat Boy a taste of musical freedom and adventure.

Picking up a love for Bluegrass along the way he vowed one day to start a bluegrass/mountain music band…. 17 years later, after working solidly to lay foundations in life, he was ready to chase dreams and the Hillbilly Goats were born. 

As well as lead and backup vocals, the band keep Goat Boy's self-claimed ADHD under control by giving him the onstage job of playing three instruments at a time – drums with his feet, a harp in his mouth and strings in his hands (mandolin, banjo, banjitar, guitar and resonator). 

This boy has energy to burn with passion to fuel it!
 

Mahney Wearne as GOAT GIRL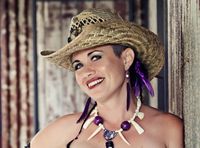 Piano tuition and eisteddfods from the age of 6 sure helped when Goat Girl decided to teach herself the double bass in her twenties.  With her own passion for Bluegrass and a yearning to drive the bull fiddle she teamed up with husband Goat Boy to create the Hillbilly Goats.  Singing was not as natural as finger coordination however 600 shows soon got those vocals and harmonies in line. 

Off-stage you'll find her chained to the desk managing the band bookings, applying for festivals, researching mountain music, networking and juggling finances. Prior to the band, Goat Boy & Goat Girl, a dynamic business team, owned and operated their own import company.  These business skills transferred over to the band assisting greatly in behind the scenes management, logistics and production. 

As well as vocals and double bass, Goat Girl plays the tin whistle, double bones, kick drum,  Appalachian Foot Percussion (known as clogging), and narrates the shows with a whole lotta history on Appalachian Music.

Stay tuned to see which instrument she'll pick up next!
Jacinta Simons as GOAT BUSTER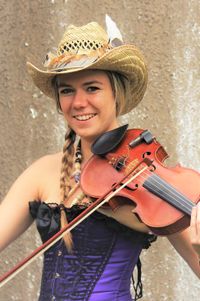 With violin as her main instrument and passion, the Goat Buster is very experienced on vocals and with Suzuki training, achieved Grade 8 standard on the Violin and Piano at the age of 16.  
Her late teens saw her touring Europe on electric violin for 5 months playing big shows and since then she's toured Europe and Australia many times with multiple bands playing at festivals such as Glastonbury (UK), World Body Painting Festival (DE), Tribal Elek (FR), Labadoux (BE), Bardentreffen Festival (DE), Splendour in the Grass (AU), Bluesfest (AU) and many more.

This experience has seen her playing a variety of genres including rock, folk, electronic, gypsy, latin, reggae, trance, drum & bass, dub, funk, blues, classical, jazz and now old timey stringband, celtic and bluegrass styles with the Hillbilly Goats.  
Mimi Versace as SASSY GOAT